By Jen Stein, Product Editor
There is nothing like feeling the stress of seeking last minute gifts for your family and friends during the holidays.  I mean, think about it…the dates never change, yet there are still some of us who struggle to meet the gift giving deadline. If any of you are still on the fence about finding the perfect gifts, perhaps some of these gift-guide ideas will get you closer to having your shopping completed just in time for the holidays.
The following items have been provide to me, from different companies for promotional purposes.  As a mother of four kids, ranging in age from 3 to 10, I believe each of these products will fit well in any household with children young or old.  Even I personally enjoy some of these….and I am a bit past my youth. Enjoy!
---
Gift-Guide: Stocking Stuffers
---
Squish'Ums make a perfect gift, for anyone 6 years or older.  Series 2 introduces 16 new sweet treats to collect and enjoy. Retail Price: $4.99
---
Wear your favorite characters in style with these collectable L.O.L. Surprise Slap Bands.  There are six different characters, each with a hidden surprise that will make every enthusiast thrilled. Retail Price: $4.99
---
What is better than one bow? TWO!!  These bow blind bags are perfect for anyone who loves hair bows.  They may be a little tricky to find, but are certainly a fan favorite worth searching for. Retail Price: $4.99
---
Build and battle with these awesome mighty micro sets from Lego.  Ideal for children ages 5 to 12, any Lego fan will love the competitive nature that these dynamic duo sets will create.  Retail Price: $7.99
---
Radz Candy + Dispensers
What do DC characters, unicorns, and dinosaurs have in common?  Each are possible to collect and enjoy, thanks to Radz.  This year, surprise those on your list with blind bag candy dispensers.  Candy + Dispenser, twistz, plusheez, tinz, are all different styles that dispense candy in different ways.  Take your pick, or purchase them all! Sold In-Store only at multiple retailers, like Walmart, Target, Five Below, Brurlington, etc.
Retail Price: $3.49+
---
Squee-Zoo-Balls
If you are shopping for someone who LOVES slow-rise squishy toys and stuffies, THIS IS YOUR PRESENT RIGHT HERE!  These slow-rise soft stuffies are absolutely adorable!  Sold in various sizes and characters, you are sure to have success with this one.  Sold in-store only, at various retail stores. I know they are at my local Walmart, so be sure to check your local Walmart for many different varieties.  Retail Price: $6.99+
---
Twisty Petz are the gem bracelets that transform into adorable, collectible animals! Make a bracelet, wear on backpack or take it with you on the go! Twisty Petz come in an array of brilliant colors and finishes! Collect them all and add metallic, rainbow, pastel and even pearlescent bracelets to your collection along with more! With a simple twist, your adorable pet comes to life! Twisty Petz are for kids aged 4+.
---
Gift-Guide: Ages 2-5
---
Grow your imagination with Abby Cadabby and the Garden Friends dough Activity Set! Use the tools to create flowers, make leaves, and decorate butterflies, then find all the critters hiding in the activity card.  There is no end to the friends that can be made in this garden!  The safe, non-toxic dough is made in a food-safe facility from organic flour, and easily wipes off the activity card.  Retail Price: $24.99 
---
Invite music and laughter into your home with this soft and loveable penguin plush from Wild Republic.  With two different play modes, you can sing along or interact freely for hours of fun. Retail Price: $29.99
---
Bring storytime to life with vibrant colors and short stories your little ones will love.  From a single story to a gift pack, this is a perfect way to help boost the imaginations and creativity of even the youngest of children.  Retail Price: $7.99+
---
Gift-Guide: Ages 6-106
---
If you have an art lover in your house, this needs to be in their possession. Draw virtually anything, using the smART Sketcher.  Utlizing a free app, you can upload any picture and learn to draw it.  Capture memories on your phone, and then project it onto paper for a new way of journaling.  Retail Price: $59.99
---
Engineer the craziest of designs using the Zoom Tubes Car Trax and expansion sets.  Up your stairs, around your bed, or just loopdy-loop around the living room. Simply click the tubes together, insert the racing cars, and watch them race around the track for hours of fun and entertainment.  Retail Price: $32.99
---
I have seriously NEVER SEEN A TOY SO BIG! This is literally a MASSIVE ball that can easily knock down a grown adult.  This is so much fun. I would highly caution playing with it around toddlers though, as they get knocked over and trampled with this very easily.  A ton of fun, especially in a large open area for play. Retail Price: $49.99
---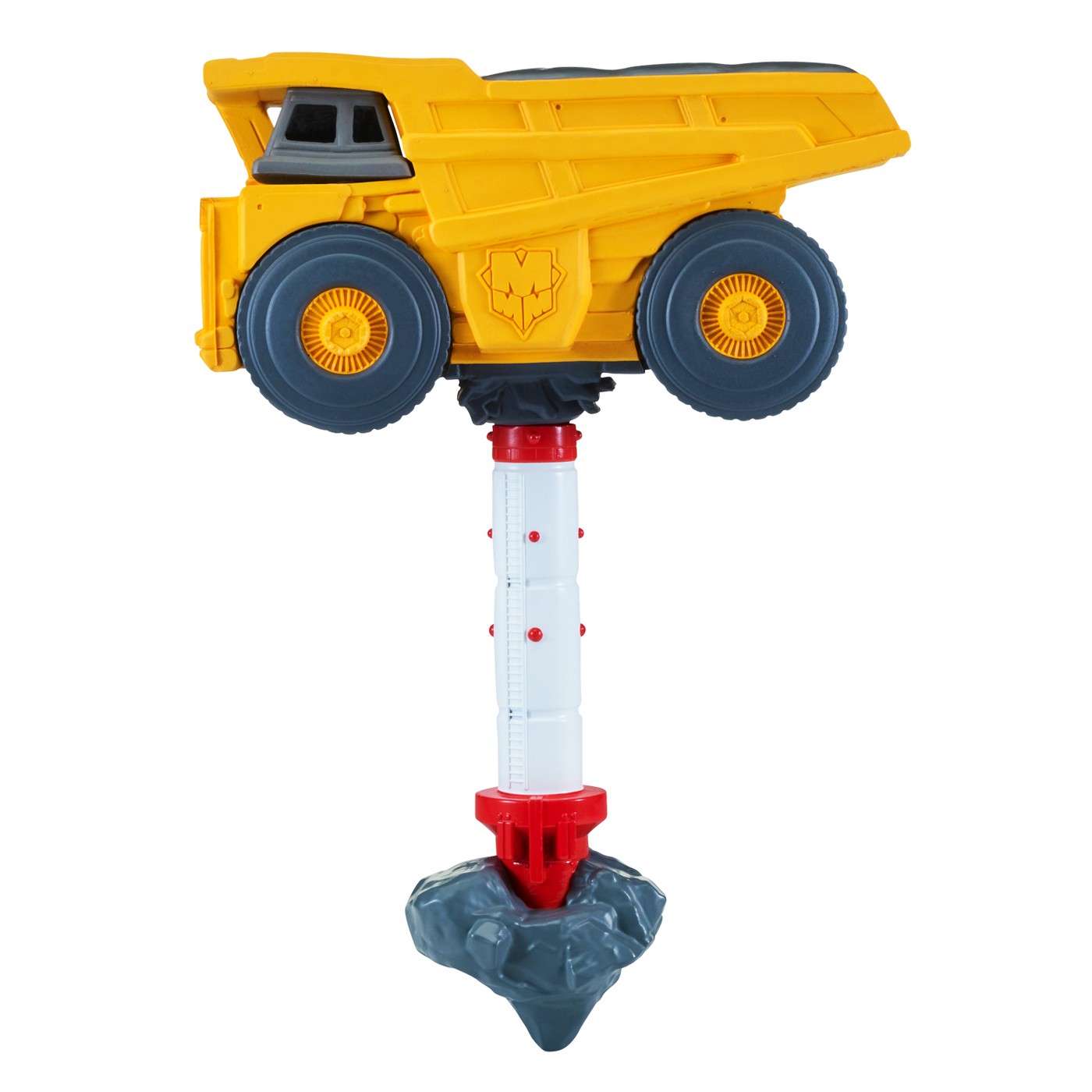 Made of soft foam, this battle blaster makes fighting monsters a blast.  Just as the name states, this is a massive toy. Overall measuring 16 inches tall by 12 inches in length. Different foam battlers available, collect them all. Retail Price: $19.99
---
Bring the battle safely inside or out, with these massive inflatable weapons from Massive Monster Mayhem.  Easily inflatable and made of thick material, these are meant to outlast the warrior in any battle.  Have fun with your choice of weapon, and slay the monsters!  Retail Price: $12.00
---
If you are going to go into battle to defeat the monsters you need to be properly geared up.  Have fun boxing and battling as Robro from Massive Monster Mayhem.  Easily inflatable, this armor is suitable for those ages 4 and older. Retail Price: $22.00
---
Bring Major Disappointment to life with this gigantic action figure, complete with bunny slippers!  If you haven't yet heard of Massive Monster Mayhem, perhaps now is a good time to look it up and introduce this action packed cartoon into your world.  Major Disappointment includes sounds and phrases found in the hit Nickelodeon show, as well as the ability to move different directions for creative play. Retail Price: $49.99
---
Unleash the power of your hands with the Air Hogs Supernova! Only you can control this gravity-defying orb!  Launch it, push it, spin it, using just your hands no remote control or touching needed.  Equipped with an intelligent on-board system and motion-sensitive lights and sensors, the Air Hogs Supernova responds to your every movement. To activate, just toss to launch and Air Hogs Supernova will levitate mid-air, awaiting your command. Master 30 moves and 9 super tricks, ranging from simple to complex, and take control of your Air Hogs Supernova. Retail Price: $47.95
---
What grimey creatures are moving through the sewers? Fill each toilet tank with water and shake them up! Peel the toilet cover away to see who lurks within. The toxic sludge-filled sewer is bursting with 150 characters, including rare and super rare Flushies!  Let your imagination run wild as you come up with crazy adventures for your creatures to explore. Retail Price: $9.99+
---
Hatchimals are continuing to melt the hearts of those who collect them, thanks to their adorable animals and designs. Adding sweet scents to them, you can now purchase a blind package with 16 different Hatchimals hidden inside. Retail Price: $24.99
---
Hopefully this holiday gift-guide will be helpful for you as you ponder on what gifts to buy.  My personal favorite from this holiday toy gift-guide would have to be the smART Sketcher, the Massive Monster Mayhem Massive Moon Ball, and the Flush Force collectables. It is pretty difficult to narrow down my favorites though, because I don't believe you could go wrong with ANY of the toys listed in this gift-guide.
What toys from this gift-guide are your top 3 picks? Feel free to leave your comment below, I'd love to hear from you.